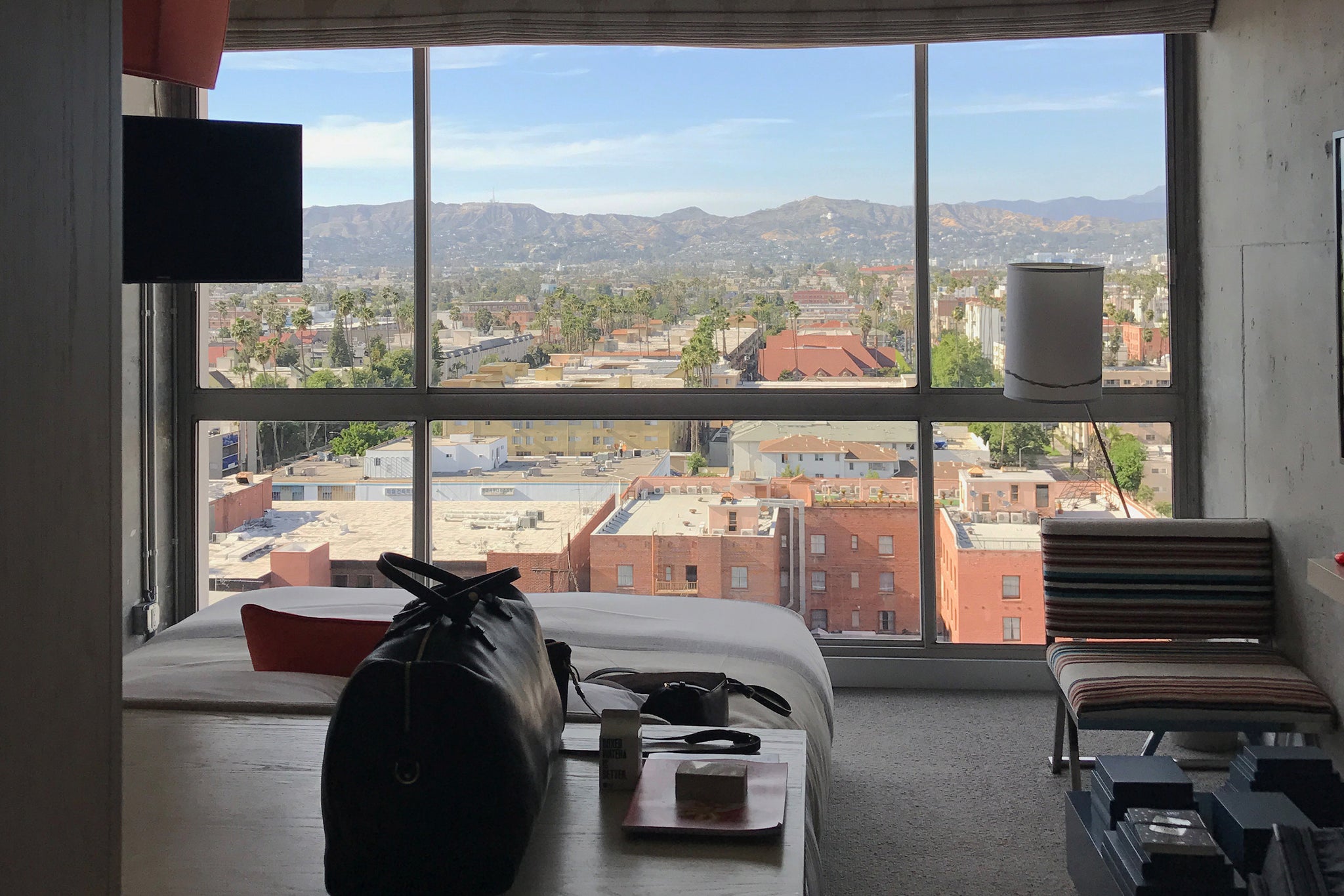 The Departure: Botanical Wellness and Turkish Brunch in Los Angeles, California
Back in March, our creative director Lindy flew across the country to Los Angeles for the opening of Bird's newest outpost in Culver City. Lindy got her industry start working under Jen Mankins, owner of the now-five Bird storefronts. To this day they've remained close, and Bird has likewise remained one of our favorite stockists. Along with a requisite few Lotuff bags, Lindy had time to explore the ins and outs of LA's most captivating neighborhoods—from botanical wellness products in Melrose to Turkish brunch in Silver Lake—and scoped out the best things to do there. Here they are below.
According to Lindy, "upon getting off the plane [in LA], you're immediately inspired by the sunshine and the warmth. You suddenly want to work out and order plants!" It's an incredibly livable city with a pro-wellness atmosphere that can't be beat, and there's a strong art scene to boot. Lindy's first stop was Koreatown, where she stayed at the bright and modern hotel The LINE; she calls it the "West Coast version of the Wythe Hotel in Brooklyn." For an authentic dinner there, try Soban, a restaurant known for its banchan (small tapas-like dishes served with rice). Another local spot to add to the list is Q Sushi, which Lindy tried on another night and "did the tasting menu—it was amazing." 
She also emphasizes that you can't leave Koreatown without getting the full experience, and part of that means going to an authentic Korean spa. The neighborhood has a few, but of them all, the best is Wi Spa. With five saunas, baths, a restaurant and a rooftop deck, an entire day or night can easily be spent here. 
We like to say that we have at least one great store in every major LA neighborhood, and over in Melrose, it's Assembly. Lindy dropped in there before heading over to The Apartment by The Line, a unique concept store that's literally set up like a real apartment. The twist is that every single thing there is available for purchase, from the furniture down to the products on the bathroom shelf. But in Lindy's opinion, Galerie Half is the ultimate where furniture is concerned. She fell in love with their vast mid-century modern collection, noting that while "you don't find a lot of furniture these days that's made with really great leather," they had plenty of pieces that fit the bill. Besides these places, Rachel Comey also has a store in Melrose, as does Moon Juice—if you haven't gotten the picture by now, there's some really wonderful shopping here.
Speaking of Moon Juice, Lindy went here for breakfast almost every day. There are infinite smoothie options and even more adaptogen powders (natural botanicals that reduce stress in the human body) to add in. Trying something new every day isn't out of the question! Her go-to drink of choice was a blue algae smoothie, and if that's her favorite smoothie in LA, her favorite store has to be Bird. 
On the night of Bird's opening party in Culver City, attended by the likes of Jenny Slate and Ted Danson, Lindy was "so psyched" to be able to officially introduce our new One-Piece bag to the world! She designed it especially for this trip, and it ended up being the perfect piece. Fast forward to today, and everyone from Instagram's Eva Chen to Refinery29's Alyssa Coscarelli has been toting the One-Piece around. 
Lindy sees Culver City as a "little Brooklyn," thanks in part to the fact that many businesses from the borough are choosing to expand here. Van Leeuwen Ice Cream is a Brooklyn favorite that recently brought its frozen treats over to California; try it out in between shop hopping. And it's not just New York that's getting in on the fun, either: find some beautiful furniture from our Rhode Island friends at O&G Studio at Rejuvenation.
The day after the party, she went back to LA to look around Heath Ceramics in West Hollywood, where a team of artisans much like ours has been making beautiful tiles and tableware since the 1940s. Then it was off to the "really hip" Silver Lake (home of yet another Moon Juice). Lindy visited our bags at Broome Street General and did some shopping of her own at Passenger before meeting the Bird buyers for a Turkish brunch at Kismet. Later on, she had a "lovely" outdoor evening at a friend's house to fuel up for a visit to Venice the following morning. Did we mention the friend in question is a chef? Lovely, indeed. 
Garance Doré has a pretty accurate take on Venice's vibes, labeling it "the haven of chill" whose inhabitants are "tired of all the fuss and look on with wide eyes." It's more casual than the rest of LA (if that's at all possible), rife with yoga studios, surfers, and free-spirited boutiques. Abbot Kinney is the main shopping block, and in addition to our retailer Steven Alan, there are tons of great places to explore. One of the best is Tortoise General Store, known for its distinct Japanese homewares and touted by Lindy as "well-curated with a beautiful way of choosing objects." After browsing for a while, hop right across the street to The Butcher's Daughter, perhaps ironically offering a largely vegetarian menu that's marvelous nonetheless. Not a bad way to end a trip to the City of Angels.
Eat Here 
Soban 4001 W Olympic Blvd, Los Angeles, CA 90019
Q Sushi
521 W 7th St, Los Angeles, CA 90017
Moon Juice 8463-3 Melrose Pl, Los Angeles, CA 90069
Van Leeuwen Ice Cream
300 S Santa Fe Ave, Suite R, Los Angeles, CA 90013
Kismet
4648 Hollywood Blvd, Los Angeles, CA 90027
The Butcher's Daughter
1205 Abbot Kinney Blvd, Venice, CA 90291
Shop Here
Assembly 7977 Melrose Ave, Los Angeles, CA 90046
The Apartment by The Line 2nd Floor, 8463 Melrose Pl, Los Angeles, CA 90069
Galerie Half
6911 Melrose Ave, Los Angeles, CA 90038
Rachel Comey
8432 Melrose Pl, Los Angeles, CA 90069