Bringing Handmade Back to America
We lovingly hand-make each piece using the best methods, leathers, and materials we know.
Each step, from start to finish, is deliberate and methodical. From sourcing the best leather we could find in the global market to cutting, stitching, painting, and assembling precisely in our Providence, Rhode Island studio, we strive for perfection, not expediency. After all, many customers often look back on their purchase and routinely tell us that they are more satisfied now than on that first day they received their bag.

We also believe you must invest in the best people in order to create the best leather bags. 
Our team attends to every step in-house to provide well made, well designed leather goods that function practically and age beautifully, getting better and more truly yours over time. 
Thank you for your interest and

 support.

 Your purchases have enabled us to:

Grow Our Team: We have hired highly talented artists who take immense pride in doing their best work and making the Lotuff bags you've come to know and love. Many of our artists channel their talents into their own personal artistic endeavors outside the Lotuff studio, too.
Invest in Our Team: We have been able to increase wages and offer our full-time employees 100% paid health insurance coverage, life insurance & disability, dental & vision coverage, and generous earned time off that also extends to part-time employees.
Improve Our Artistry: 
With each new style, we take the time to perfect the process and stand by our lifetime guarantee. It's no wonder our former Creative Director Lindy McDonough was inducted into the Council of Fashion Designers of America (CFDA) and our No. 12 Weekender was picked by 
GQ
as the
"Best Leather Duffle"
of 2017, 2019, and 2020.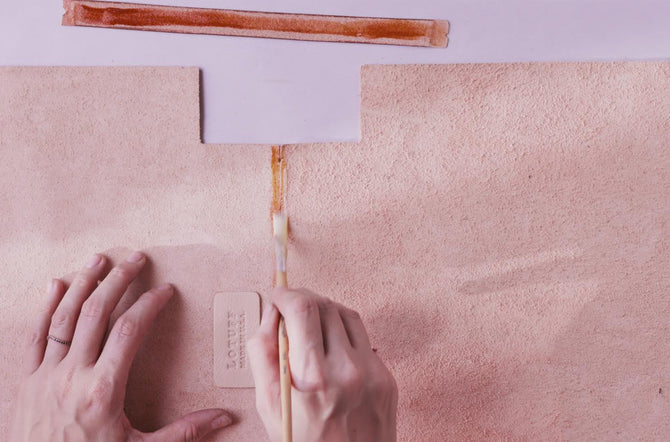 Our Guarantee
Our efforts manifest themselves in multiple ways—not the least of which is our product guarantee and your absolute satisfaction. We guarantee every Lotuff Leather product against material and workmanship defect throughout its life. If your purchase does not live up to your expectations, you are entitled to a full refund or exchange within 30 days of receiving your product.
Every Lotuff Leather piece is individually embossed with a unique number, creating a piece unlike any other and allowing us to swiftly repair if ever needed. Be sure to register your bag at: LOTUFFLEATHER.COM/REGISTER
Our Providence Studio
In 2013, we opened our studio in Providence, Rhode Island, a place with a storied history of industrial might and a city that has become known as "America's Creative Capital."
Our in-house studio is unique in its approach. We're inspired by the history, traditions, and practices of some of the best European ateliers and are seeking to create this same dedication to quality on American soil. Our design team knows not only how to design a bag but can also walk over to the studio floor and personally hand-make it from start to finish. This symbiotic relationship between design and production results in a bag unlike anything else--both inherently usable and incredibly beautiful. 
 Many members of our team are young, local artists who help bring our exquisitely made pieces to life while still maintaining their own independent studio spaces.   
Almost 80% of our team is comprised of women. Amongst our studio artists, nearly 75% have graduated from some of the most prestigious art institutions in the world, including the Rhode Island School of Design. 
They are what make it possible for an entirely new generation of customers to experience the unparalleled quality and refined nature of handmade leather goods.